Understanding Proposition-65 & What It Means for You
By now, we're sure you've heard the term "Proposition-65" thrown around. This page is meant to serve as a guide to help you better understand this regulation and how it will impact you.
What is Proposition-65?
Proposition-65 is a shorthand term for The Safe Drinking Water and Toxic Enforcement Act of 1986 (California Proposition-65). Part of Proposition-65 relates to a ban on discharging certain chemicals into drinking water sources, but the part that concerns you is the part on warning requirements.
Proposition-65 requires businesses selling products in California to give consumers a "clear and reasonable warning" that chemicals in their products contain substances known to the state of California to cause cancer, birth defects or reproductive harm.
What it boils down to is businesses are required to warn California consumers that the materials that make up their products contain substances or chemicals on California's Proposition-65 chemical list, which is updated at least once per year.
What is the purpose of Proposition-65?
The idea behind the regulation is to ensure that California consumers are as informed as possible when buying goods.
The state of California wants consumers to know up front that a product is made of potentially dangerous substances, as opposed to having consumers find out years later.
Why are we adopting these regulations?
As a manufacturer selling into California, we're required by law to be compliant with Proposition-65 by August of 2018. In a effort to make things easier on you, we're trying to be compliant with the regulations as soon as possible.
It's not just us: every company selling into California is required to get compliant with these regulations.
Because we take compliance seriously, we're being proactive and striving to be among the first in the industry to be fully compliant with the regulation.
Should products featuring warnings be avoided?
No! Nothing about our products has changed. We're required to label products if they have even trace amounts of a chemical.
The goal of Proposition-65 isn't to prevent consumers from using certain goods. Instead, per California's OEHHA, Proposition-65 is meant "to notify consumers that they are being exposed to chemicals that are known [to the state of California] to cause cancer and/or reproductive toxicity."
However, the OEHHA goes on to say that a Proposition-65 warning "does not necessarily mean a product is in violation of any product-safety standards or requirements."
It's important to remember that we produce all of our products according to both federal and internal safety standards. We subject our products to rigorous third-party testing to ensure that they are safe for everyone to use.
These safety policies and procedures remain in place, and we continue to be committed to manufacturing safe products. As a result, you should remain confident that you are providing safe, quality goods to your customers.
What do our partners need to do?
Right now, the best thing for you to do is to educate yourself on Proposition-65 in order to answer any questions you may receive.
It's important for you to be able to respond to inquiries by providing necessary information about these new labels and warnings. We'll update this page frequently, so be sure to check back for updates.
What changes will our partners notice?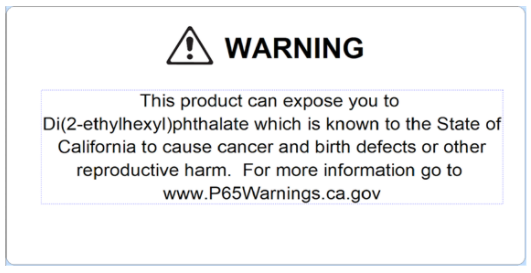 Beginning in late April, we will be applying warning labels on our products consistent with the requirements outlined in Proposition-65. The labels will begin appearing on badge reels first, with the rest of our products following suit thereafter. You'll see these labels on both outer and inner packaging.
These warnings will mention that the products inside the package are made of substances that contain chemicals on California's Proposition-65 list. Labels will follow the Proposition-65 standards. The warnings will explain the risk of cancer, reproductive harm or both, depending on the chemical.
You'll also notice a similar warning appearing on our marketing materials and website going forward. These warnings will follow the same standards discussed above.
Where can you get more information?
The best place for information is on California's Proposition-65 website. The website features the current list of chemicals and substances, notices and more.