The Promovision Design-A-Lanyard tool
Drive sales with the web's best custom lanyard tool
We've heard it from enough of our partners to know it's true: selling custom lanyards is a complicated matter. With so many colors, styles, sizes and end fittings to choose from, it can be hard to ensure that your customer is getting the right product at the right price.
Plus, many suppliers have a 24-hour wait on sending out design proofs — who has that much time to wait?
To solve those problems, we're happy to announce the release of our innovative Design-A-Lanyard tool, which will change the way you design and sell custom lanyards.
We've turned the custom lanyard process into a seamless experience: our tool allows you to select your lanyard features, upload artwork and view your finished design instantly, all without ever leaving the tool.
For Promovision partners, the Design-A-Lanyard tool can be used two ways:
Embed the tool on your own website to drive web growth.

You can choose the default options, including lanyard style and color, in the tool and set your price margins to whatever makes you comfortable.

Use the tool as an internal quoting tool.

You or your employees can use the tool in-house to design lanyards for your customers. Email the customer a PDF proof, or share a link where the customer can view and edit his or her design.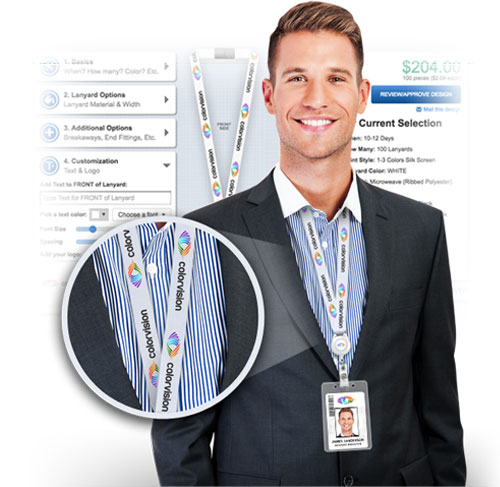 Additional features include...
PDF Proofs

Generate a PDF proof and email it to your customers for quick and easy quoting

Robust offering

Design open-ended event lanyards, full-color dye sub lanyards and more

Rush Lanyards

6-8 day (after proof approval) lanyards can be designed in the tool

User Experience

User-friendly admin portal makes it easy to set your preferences

Dealer Tools

You now have the ability to not show pricing and to have multiple apps per account number

Quality Photos

Customers will see high-res imagery of end fittings, lanyard texture and more
Proofing or selling: Use Design-A-Lanyard your way!
The features and administrative tools in Design-A-Lanyard make it easy to use the tool the way you'd like.
We designed the tool to serve two different functions: it can be an internal quoting tool, drastically simplifying what can be a complicated custom product, or it can be an external sales tool that you place on your website to drive web sales. You decide!
Use it as an internal tool

Use it as an external tool

Give access to Sales and Customer Service
Quickly and easily create designs for your customers
Get accurate, no-wait price quotes
Create and email PDF proofs in just a few clicks

Embed the tool on your website for public use
Show pricing or keep it hidden — it's up to you
Drive traffic to other areas of your website
"Sticky" product that will encourage customers to reorder