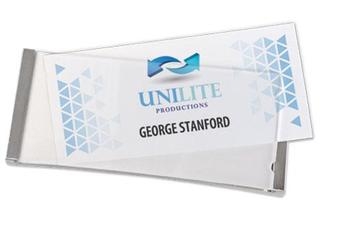 Polar name badges create a highly prestigious look with their clean, stylish metallic finish. Inserts (sold seperately) print on any laser or inkjet printer.
Badges feature a flexible, scratch resistant shield and a powerful, double-magnet backing. Inserts slide into name badge easily; shield snaps in to hold them securely in place. The double magnetic clip is bevelled to resist twisting and tilting during wear. Ideal for high turnover and volunteer staffs.
The badges feature a curved profile for increased visibility and convex shape for easy reading at all angles. Additional fastener styles are available.
Need templates for your Polar badge printable inserts? Download them below! (Please note that clicking the links below will download the templates to your computer as ZIP files.)
Polar® Reusable Name Badges

Item #

Badge Size (W x H)

Fastener

25

50

100

250

500

1000

BG-PCM20

2.68" x 0.86"
Magnet
$7.98
$6.27
$5.70
$5.13
$4.49
$3.99
5V
Call to order
BG-PCM30

2.75" x 1.18"

Magnet
$8.19
$6.44
$5.85
$5.27
$4.63
$4.10
5V
Call to order
BG-PCM35

3.15" x 1.34"

Magnet
$8.33
$6.55
$5.95
$5.36
$4.72
$4.17
5V
Call to order
Polar® Printable Inserts

Print on any laser or inkjet printer. Inserts come on a perforated 8.5" x 11" sheet for easy printing.

Item #

Compatible Polar badge

Description

Price

BG-BPI20
BG-PCM20
550/pack
$48.00 (V)
Call to order
BG-BPI30
BG-PCM30
400/pack
$48.00 (V)
Call to order
BG-BPI35
BG-PCM35
350/pack
$48.00 (V)
Call to order