Understanding Proposition-65 & What It Means for You
By now, we're sure you've heard the term "Proposition-65" thrown around. This page is meant to serve as a guide to help you better understand this regulation and how it will impact you.
Our products and relevant Proposition-65 information
Below, you'll find a spreadsheet that features a list of our products and their relevant Proposition-65 information. This list includes the product name, SKU and whether or not a Proposition-65 label is required. This list will be updated regularly.
What is Proposition-65?
Proposition-65 is a shorthand term for The Safe Drinking Water and Toxic Enforcement Act of 1986 (California Proposition-65). Part of Proposition-65 relates to a ban on discharging certain chemicals into drinking water sources, but the part that concerns you is the part on warning requirements.
Proposition-65 requires businesses selling products in California to give consumers a "clear and reasonable warning" that chemicals in their products contain substances known to the state of California to cause cancer, birth defects or reproductive harm.
What it boils down to is businesses are required to warn California consumers that the materials that make up their products contain substances or chemicals on California's Proposition-65 chemical list, which is updated at least once per year.
What is the purpose of Proposition-65?
The idea behind the regulation is to ensure that California consumers are as informed as possible when buying goods.
The state of California wants consumers to know up front that a product is made of potentially dangerous substances, as opposed to having consumers find out years later.
Why are we adopting these regulations?
As a manufacturer selling into California, we're required by law to be compliant with Proposition-65 by August of 2018. In a effort to make things easier on you, we're trying to be compliant with the regulations as soon as possible.
It's not just us: every company selling into California is required to get compliant with these regulations.
Because we take compliance seriously, we're being proactive and striving to be among the first in the industry to be fully compliant with the regulation.
Which chemicals are being used in our products and how are they used?
We performed exhaustive testing on our products in order to be as diligent as possible. That testing found five chemicals that appeared on the state of California's Prop-65 list.
Nickel Nickel is used as plating on most of our steel components, like lanyard end fittings and clips. It's used to help prevent corrosion. Nickel is naturally found in food and water. It's also frequently found in items like guitar strings, costume jewelry, scissors, zippers and razors.

Antimony Trioxide Antimony trioxide is used as a catalyst in our production of PET. PET is a post-consumer recycled plastic used in our recycled lanyards. Threads tested showed that they contained just 0.03% Antimony Trioxide. Antimony Trioxide is commonly used as a flame retardant in textiles, plastics and rubber.

Bis(2-ethylhexyl) Phthalate More commonly known as DEHP, we use this chemical as a softening agent in the production of some of our flexible vinyl badge holders. Because of the way this chemical is used, it's impossible to know the concentration of DEHP in our holders. DEHP has been used in a variety of applications in the past, including IV tubing and as a fragrance carrier in cosmetics, personal care products, laundry detergents, colognes, scented candles, and air fresheners.

Diisononyl Phthalate This chemical is more commonly known as DINP, and we use it as a softener, similar to DEHP above. Its common uses are similar to those of DEHP as well. PVC that is made flexible with DINP is widely used in the building and construction industry today.

Bisphenol A More commonly known as BPA, this chemical is found in our polycarbonate badge holders. In the past, polycarbonate containing BPA has been used in dental devices, sports equipment and water bottles.
As you can see, several of the chemicals featured in our goods are also found in common household products. In all likelihood, you've already encountered warnings like ours on products you use on a regular basis — you just may not have noticed them.
Should products featuring warnings be avoided?
No! Nothing about our products has changed. We're required to label products if they have even trace amounts of a chemical.
The goal of Proposition-65 isn't to prevent consumers from using certain goods. Instead, per California's OEHHA, Proposition-65 is meant "to notify consumers that they are being exposed to chemicals that are known [to the state of California] to cause cancer and/or reproductive toxicity."
However, the OEHHA goes on to say that a Proposition-65 warning "does not necessarily mean a product is in violation of any product-safety standards or requirements."
It's important to remember that we produce all of our products according to both federal and internal safety standards. We subject our products to rigorous third-party testing to ensure that they are safe for everyone to use.
These safety policies and procedures remain in place, and we continue to be committed to manufacturing safe products. As a result, you should remain confident that you are providing safe, quality goods to your customers.
What do our partners need to do?
Right now, the best thing for you to do is to educate yourself on Proposition-65 in order to answer any questions you may receive.
It's important for you to be able to respond to inquiries by providing necessary information about these new labels and warnings. We'll update this page frequently, so be sure to check back for updates.
What changes will our partners notice?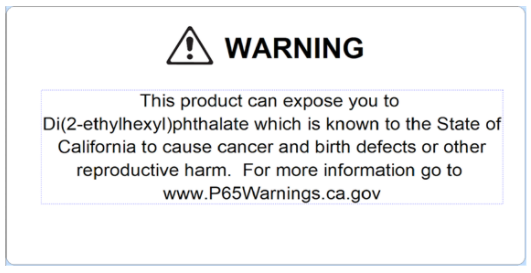 Beginning in late April, we will be applying warning labels on our products consistent with the requirements outlined in Proposition-65. The labels will begin appearing on badge reels first, with the rest of our products following suit thereafter. You'll see these labels on both outer and inner packaging.
These warnings will mention that the products inside the package are made of substances that contain chemicals on California's Proposition-65 list. Labels will follow the Proposition-65 standards. The warnings will explain the risk of cancer, reproductive harm or both, depending on the chemical.
You'll also notice a similar warning appearing on our marketing materials and website going forward. These warnings will follow the same standards discussed above.
I don't like these labels. Why shouldn't I just switch to different supplier?
All manufacturers selling into the state of California are required to comply with Proposition-65 regulations.
If a manufacturer isn't complying with the warning label requirements, they're putting themselves at risk for a lawsuit. As a reseller, if you then sell that non-compliant manufacturer's product to customers in California, your organization is at risk for a lawsuit as well.
Simply put, any organization that isn't complying with these regulations is putting its business partners at risk. We have high standards for our products and will not do anything that could put our partners in jeopardy. Complying with these regulations is necessary for us to ensure that our partners are protected
What if I see conflicting product information on third-party sites?
If you see warning labels or Proposition-65 content on products of ours that appear on third-party websites and it conflicts with the content we provided to you, you should use the content provided by us. We cannot control third-party content, so we cannot guarantee its accuracy.
You can trust that the Proposition-65 content on our websites has been verified by our team and is the correct information.
Where can you get more information?
The best place for information is on California's Proposition-65 website. The website features the current list of chemicals and substances, notices and more.
You can also download our webinar and the slides from the webinar below: